This is a class project, aiming to create a whole design case about hold a conferece
Judy Singer, a sociologist who has autism, started using the term "neurodiversity" in the late 1990s. It refers to the concept that certain developmental disorders are normal variations in the brain. And people who have these features also have certain strengths. 

New dawn is to extract letters n and d from neurodiversity and recombine them into new words. New dawn also represents the emergence of new hope for neurodiversity.

New Dawn is dedicated to neurodiversity people to help them understand the use of technology products to master new ways to face the pressures of life and workstyles. Furthermore, let more people understand and help neurodiversity in life and work.
The 2021 New Dawn Conference's
mission
is to share ideas about how designers can help neuro-diversity people have a good experience using digital technology. And introduce the new accessibility for neurodiversity people on application and website design. 
New Dawn Conference is trying to build a new awareness about neurodiversity topics. We hope our brand can create an emotional connection between speaker and audience. Moreover, from our brand, the audience should feel credibility and trust. The leading brand goal is to keep consistency, recognizability, and collaboration.

To ensure legibility, always keep a minimum of clear space around the logo. And make sure the minimum size of the logo is 0.25 in, and the maximum size of the logo is 6 in. 
Minimium Size: 0.25 in * 0.25in

The color of the logo can only use red or white, the text of the logo can only use white or black.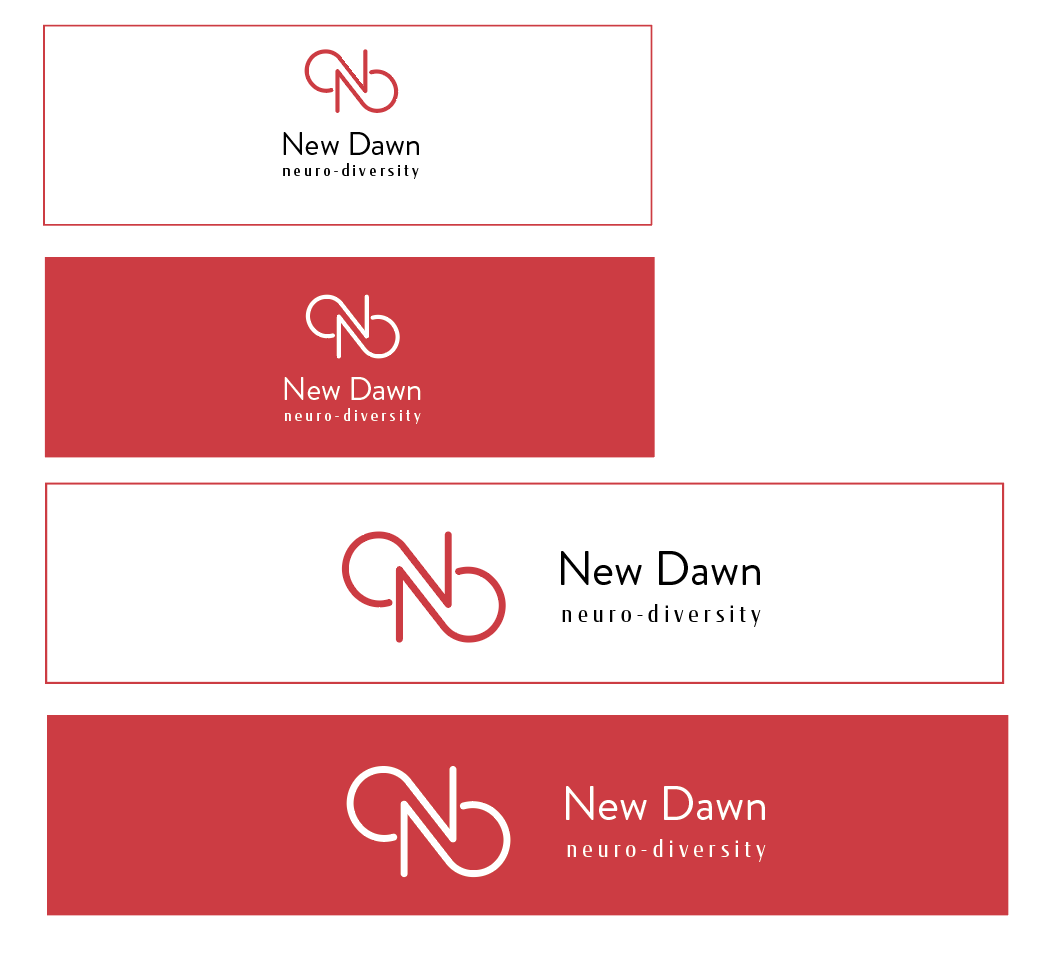 The elements of the design pattern extract the lines of the logo. The design style of the pattern should be kept simple.

The logos used in the poster are not allowed, we just want to show people what it will look like. 
For our Conference, we believe it will help most people understand what neurodiversity is to a large extent and let people learn more about the use of electronic technology. Furthermore,

I

think people will pay attention to neurodiversity people, understand and help them in work and life.

I

hope this Conference can further improve our brand publicity and provide more research materials and professional publicity, which will be more helpful to our Conference. We can continue our design philosophy and be a professional and inspiring brand so that people will have a more profound impression of our conference brand. Through this meeting, we can summarize and analyze the areas that people are more concerned about and the sessions of the Conference to help us increase people's participation experience and interactive forms during the meeting.